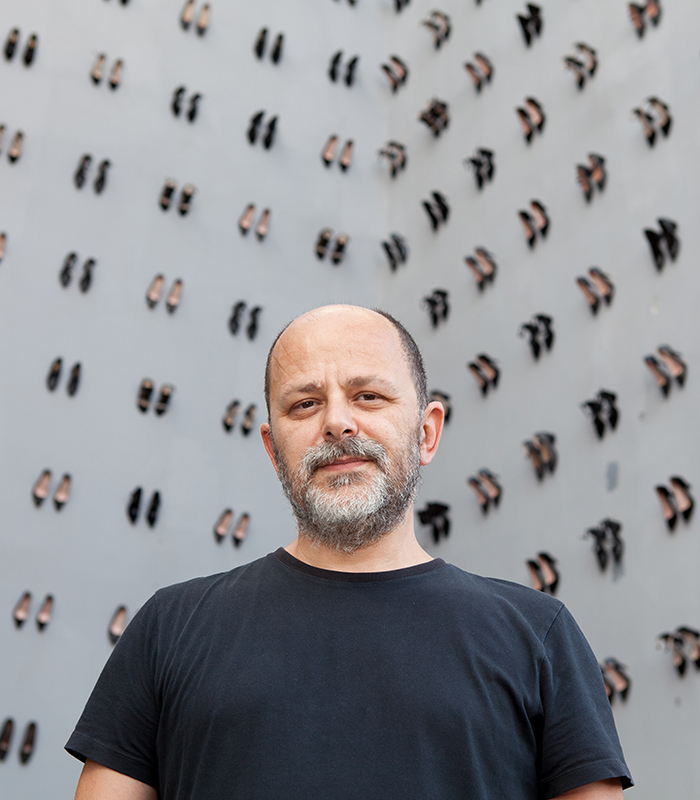 Photo: Flufoto
About Vahit Tuna:
Dear Vahit, your work will be the fourth project to be realised by Yanköşe, the public art project generated by Kahve Dünyası, which has enabled diverse artworks to come to life. How did you begin to build your project in this rather exposed yet hidden, and physically challenging space?
Public space is perhaps the most challenging area for an artist to be working in. Once you step out of the safe confines of galleries, museums, and such spaces, the mode of questioning particular to an art practice and the inner workings of its self-contained system goes awry. Even more so in locales where this is an infrequent practice or mode. To show public artwork in Turkey is both inspiring and precarious. There are many hundreds of assaults made on sculptures in public spaces that remain fresh in our minds and it is not possible to make new work in this sense without considering what has happened before. We cannot forget that there is this tradition of the populace idealizing the public domain based on its own set of convictions and beliefs. And the reactions that will be caused by any act that can be considered "wrongdoing" within these idealized spaces. This question of what is regarded as "wrongdoing" brings about a crowd, a mob that continues to grow in numbers and has in the past, as we know so well, ensued on to outbursts of rage and from there on to violence, arson and destruction.
Even without having placed anything in the street, our subconscious concerning this geography comes to surface. And I wonder now if this means, putting aside the artistic practice and public artworks, that the violence that lingers in the streets has become something that holds a considerable place in our consciousness. How is it that these rambling streets can come together and organize around such a singular body, a frame that teaches a lesson to all "deviants"? I think we'd have to crack all of this open to understand what lies at the source of violence.
Group psychology, conformity, the desire to live as part of a group, let's put these to one side and on the other side there is the animosity towards the "other" and all the rest that can follow on from there. The seeds of the concept of violence that exist in this geography are sown and cultivated in such terrain.
In this work you manifest a particularly symbolic idea using ready-made objects: the 440 pairs of shoes arranged in a regular grid on two walls reference the number of murdered women in 2018. What was the background for preparing your proposal for the Yanköşe? Was this something you were already working on?
I was already considering this state of violence and the dynamics of the street before I began thinking for Yanköşe. I was in a group exhibition in Kunstraum Kreuzberg in Berlin in 2017. The title for the exhibition was "Muscle Memory". I showed a work entitled "Silent House"1, which was an installation of three tables topped with glass. I'd made this work based on a news article I'd read, about the murder of a woman in 2016. Inside one of the tables there was a display of clothing, in the other a necklace, rings, shoes, objects we'd associate with a woman. Inside the third table there was a photograph of a woman, covered on top with iron filings. When I began mulling over the Yanköşe this installation kept coming back to me. I began to consider making a larger, more expansive rendition of this work, making it a focal point in a public space for people walking by, somehow directing their attention to it. On another note when I first moved to Istanbul at the start of university, I noticed that in certain neighbourhoods, people would leave shoes outside the doors of the buildings they lived in. At first I thought this was about people taking their shoes off before entering into houses, or shoes people would dispose off, leaving it for anyone to take. Years later I saw the same thing happen in my own building. Our neighbour across the hall had passed away. It was then that I realised this was a custom, that the shoes of the deceased person would be left at the door of the building. I had no idea until that point. "Untitled" also grew out of this memory that I've carried with me since.
The title "Untitled" also conjures up how in such violent events the victims are almost always anonymous, news stuff, or even made into nothing other than numbers. What is your take on this? The number of women who were slain by men last year corresponds exactly to the number of shoes installed on the walls. All the women had names. It is the installation itself that is "Untitled". I could not fathom any other title for this work. It brings to mind these lines from Didem Madak's poem, Wreckage Removal Work, "the numbers would grow and the city would shrink. // I gave up, I gave up afterwards, // Let all the cabs I get into, take me to my mom's." Death is irreducible to a number, and the same goes for statistics.
I think the structure of the installation is truly relevant and arresting. The shoes are displayed in a grid, an image we are familiar with from cemeteries; pinned to the grey of the walls from their heels; they emerge as symbols of independence and femininity. Was the making of a memorial something you were considering when you began?
A few days ago there was an article in Birikim by Ahmet İnsel. The title for his article was "Kadınkırım" (Femicide). When I was thinking of installing this work on the walls I felt that it needed to function as a kind of genocide memorial. The lining up of the shoes, the space they all take on the walls and decisions as such, but I couldn't find a word for it in Turkish. It had to be something other than genocide. I was wrapped up in this for a long time and when I read İnsel's article I thought this word "Kadınkırım" that has been in use since the nineteenth century is exactly what I was looking for.
It was rather odd that I came upon this article the day after installing the work. The historical background, the usage of this word since its coinage up to our present day, the protocols that have been initiated by the United Nations and the World Health Organization, to be adopted and implemented by all governments, the big picture which the article sketches out is horrific. Although my work points a finger to the state of our geography it is impossible to overlook the radical increase of femicide all over the world. Currently one in three women experience sexual or physical violence. It is almost disorientating to try and grasp the severity of this inhuman situation when you look at the numbers or statistics of different countries; the intentional violence of institutionalised patriarchy towards all its "others". "Untitled" underscores the violence committed against all gender identities rejected by traditional male identity. We cannot forget the brutal intentional violence against the trans community and the trans murders that continue to be committed.
From there let's move on to how you imagine the passer-by or the audience to respond to this work.
Although the installation will be up for a duration of six months, I would want for it to have an impact on all passers-by. Perhaps curiosity to begin with, maybe it will be seen as some kind of advertisement or an ode to someone in particular. I was told that a young school boy came up to the crew in the process of installation and asked "Is this about the murdered women?" We mustn't forget that children have much clearer minds compared to us.
You were also considering an alternate installation, one that implemented sound. I think that was interesting as well since you are an artist who has used sound in an experimental way. Later on you decided to take the sound element out. Do you think back and say that maybe sound could still have been involved?
No, I'm glad I didn't use a sound component. I chose silence.
Your earlier work has taken up societal and socio-political issues in Turkey as subject matter and I wonder how "Untitled" sits within the broader spectrum of your work in that sense? Almost all my work is a reckoning with societal and socio-political struggles. To reposition oneself against the positioning of institutionalized patriarchy, to subvert, fracture or debunk its myth. To talk back at the sanctity of institutionalized patriarchy, its assumed supremacy, its high-pitched shriek. These are familiar encounters considering the geography we inhabit. The state itself is very much a part of this.
Men continually domineer women in Turkey. What are you looking at? Why is your skirt so short? Wear pants instead! Slow down! Don't laugh out loud! Hush keep your voice down! Some becoming annoyed even at the sound of a woman's heels. Though high heeled shoes may at first glance seem as fetish objects they are in fact objects that irritate men. I wanted to put them on centre stage so as to confront men who feel threatened by the status of these objects. I also feel it is important that the installation attracts the passer-by's' gaze. Addressing all means of the subconscious. The reason for choosing black as the only colour is to incapsulate a sense of sorrow and grief within the work. Black is the most indefinite colour. Shoes are also our most primeval vessels, our implements of freedom, walking, running. We can walk away from anything once we put them on, or walk towards what we desire.
One thing we do in Yanköşe is that we ask that the materials used in the projects be recycled or upcycled in some sense, that they do not become waste products. Do you have an idea of how the materials you have used can be repurposed in this way at the end of the project? I envision that whatever is left once the project is finished will be reused as artworks over and over again. Rather than recycling or upcycling I'd repurpose the materials as a part of other artwork or exhibitions.
Finally I want to ask about your solo show entitled "Mağara" (Cave) opening concurrently with this installation at Versus Art Project (19-28 September). What kind of work will you be showing and what is the framework that sets it?
"Cave" is composed of two parts. There are two installations entitled "Inside" and "Outside" . The former includes a series of black stains I have been making for the last two years. The latter is an opera composed of sound produced from the stains and through use of AI. It's an exhibition I've been working on for the past year. I've come to think that this exhibition for which I worked with the magnificent Soprano Ayşe Yakut Somer, bears an undeniable link to "Untitled". This is how art-making works, you have little idea of how one thing will transform or flow into another.